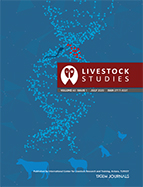 Livestock Studies
2000, Vol 40, Num, 2 (Pages: 037-044)
The fattening performance and carcass characteristics of Karayaka male lambs
1 Uludağ Üniversitesi, Veteriner Fakültesi, Zootekni Anabilim Dalı-BURSA
-
This study was carried out to investigate the fattening performance and carcass characteristics of Karayaka male lambs. One hundred lambs at the age of 5.5 months were used in this study. Lambs were fattened for 64 days.

The lambs were taken to fattening at average a live weight of 31.14 kg and were fed until they reached 50.02 kg of live weight. Average daily gain and feed efficiency were found to be 295 g and 6.99 kg, respectively

Warm carcass weight, cold carcass weight, and dressing percentage (cold) as the carcass characteristics of lambs were 25.33 kg, 24.55 kg and 47.91 %, respectively. Leg, arm, loin, back, lean, fat and bone ratios in the carcass were determined to be 29.41, 18.04, 8.18, 8.82, 58.87, 15.03 and 18.34 %, respectively. Eye-muscle area and fat thickness were measured to be 12.96 cm2 and 0.46 cm, respectively.
Keywords :

Karayaka, Lamb, Fattening Performance, Carcass Characteristics