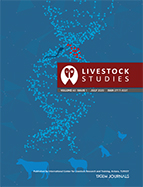 About Journal
Aim&Scope
Our Institute Lalahan International Center for Livestock, Research and Training has been operating in the field of Animal Science and Livestock since 1951. Among the livestock activities, our Institute continues its activities in the fields of cattle breeding, ovine breeding and poultry breeding. In addition Institute's Breeding, Animal Nutrition, Genetics, Artificial Insemination and Embryo laboratories actively serve. Numerous research projects have been completed or still continue to be carried out in these areas. Institute has a journal named "Lalahan Livestock Research Institute Journal" which has been publishing 2 issues per year since 1959. The journal has the status of a National Refereed Journal followed by ULAKBİM (Turkish Academic Network and Information Center) in the field of Livestock. The journal, which has a strong archive and knowledge in its field, will continue its publication in English in order to carry it to International Standards. The journal will continue its publishing life as its new name 'Livestock Studies'.
LivestockStudies covers all kind of studies related to farm animals from poultry and bees to cattle, sheep, goats, etc. as follows:
» Reproduction
Artificial Insemination

Reproduction & Udder Health

Embryo Transfer
» Animal Nutrition
Nutrition & Nutritional Diseases

Feed & Feed Additives
» Animal Breeding & Genetics
Population genetics

Molecular genetics

Bioinformatic

Genetic resources

Breeding
» Animal Economy
» Animal Husbandry
» Herd Management and Herd Health
The journal will publish original research articles, reviews, and short communications as well as technical notes. First records, reports & observations about any of the subjects mentioned above are not welcome to the journal.
The Journal will be published biannually in July and December for the above mentioned subjects.
Open Access
LivestockStudies is a fully open access journal, with free online access to all content. No page charges or publication fees are collected. There is no payment at any stage of the article publishing process.